Interested in central and remote trial management?
From Author to Archive
Your Perfect Fit Platform to Simplify Clinical Content Management and Oversight.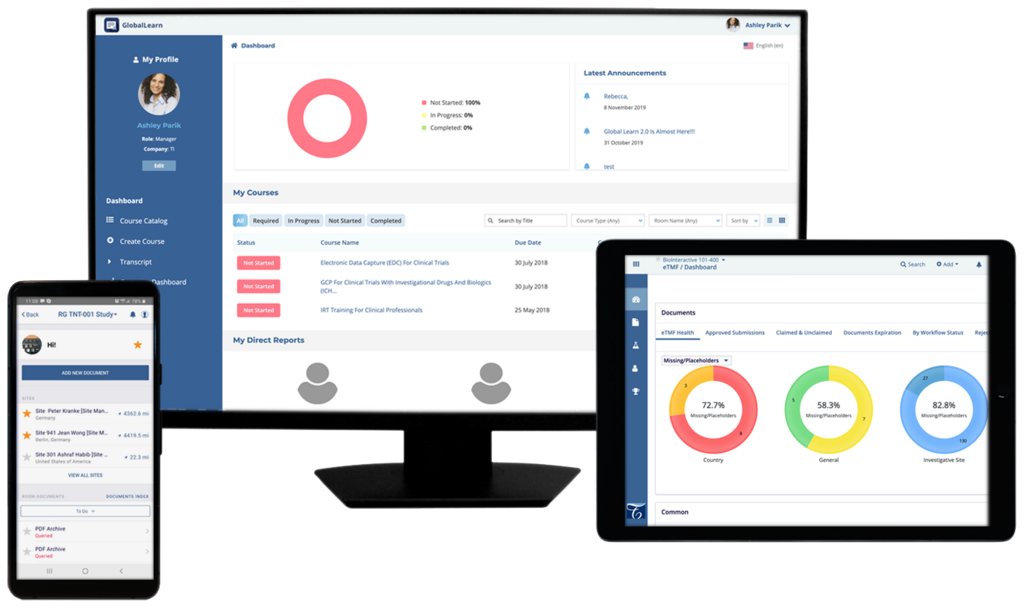 Pass inspections. Expedite time-to-market for life-changing products.
TMF management has historically been a process that begins in earnest late in the lifecycle of a clinical trial. Electronic clinical trial solutions make sure you capture the full history of your study, long before documents are archived. 
"Trial Interactive has helped us enable a critical piece of remote trial management: visibility into all documents needed to remotely oversee a clinical trial. We only touch documents once because documents flow seamlessly between GlobalLearn, the eISF, and the eTMF. With Trial Interactive, we help studies lower risk and achieve near real-time oversight, without site visits."
Penelope Manasco, MD, CEO, MANA RBM
"They get all the little details of the work that we do."
Senior Director, CRO
Trial Interactive is a preferred eTMF vendor. Mobile eTMF management and a comprehensive, nuanced experience are just some of the reasons.
The best eTMF in the industry is also the most practical way to prove GCP compliance from site identification to closeout. 
Expedite timelines while improving quality, completeness, timeliness, overall compliance, and operational excellence. 
Watch to learn why sponsors, sites, and CROs have trusted the Trial Interactive eTMF and TMF services for over a decade.
Worldwide supports sponsors with the help of Trial Interactive.
Create, review, approve, and archive controlled clinical content. 
Launch compliance-focused training.
Adopt an enterprise approach to inspection readiness.
 
All within one system that tells the whole story of your study!