Part three is the end of the birthday song where we all say "and many more".
Unfortunately, we can't celebrate our 10th birthday forever. All good things must come to an end. Before we turn out the lights on our year-long celebration, we have a final five lessons learned from our ten years of e-clinical innovation. Check out parts one and two if you missed them.
In part two, we left off talking about how technology and service companies need to provide well-rounded capabilities, how our users are the real heroes of innovation, how they can also struggle to let go of old habits, how email is not good for document management, and how inspections findings are much more costly than adopting the right technology, processes, and best practices. Part three is all about relationships, experience, procrastination, support, and accessibility.
5 more lessons learned for good luck!
Change management is not for the faint of heart - Imminent change is scary! No matter the potential benefits, introducing new technology and new processes is stressful. People have to learn new things and adjust to doing their work differently than they are accustomed to. Winning the hearts and minds of a team to navigate change takes Picard-esque poise and leadership. It's important for service providers to deliver intuitive solutions with proactive support and available subject-matter experts to make change less of a journey. Change will always be challenging, but it doesn't have to be painful.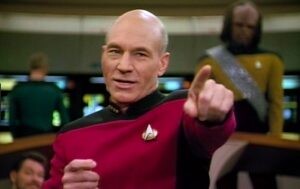 Shiny pennies won't buy you partnership - There's always a new kid on the block—that's the nature of competition in business. However, we have learned that with our longevity comes stability and battle testing. We are here to stay and we've been through this process over and over again with study teams around the world. On top of that, we work with them directly to guide our innovation towards their nuanced needs. We hear from many teams that this collaboration has given them the level of access they want from their providers and that the results are clearly seen in our products. Partnership has to be part of the culture. It isn't a bullet point on a deck. Well, it's in our deck, but we mean it!
The TMF procrastination is real - "The best strategy for a healthy Trial Master File is to clean up your TMF and make sure you're in compliance at the very end of the study, just before regulatory inspection," said nobody. Yet due to cumbersome paper logistics, resource limitations, lack of TMF experience, and other factors, we still see teams waiting until the very last minute. This is why we have learned it is so important to have a balance of technology and services, so we can help teams with their TMF, or help them go digital with an eTMF. Either way, it's all about shooting for real-time inspection readiness as much as possible.
Companies just want to be loved - Companies need a lot of attention—not because they are needy, but because they are complex and unique, each with their own processes. A technology purchase is just the beginning. As mentioned earlier, the people, process, change management, and training considerations alone can require high-touch support, which is why we've found partnership to be the win-win formula. It's easy to be there to support a partner—anytime they need the attention. It's what partners do!
Are you a human? Please check "yes" - Companies don't just want attention, they want access—real access. Can they call you on the phone? Can they visit your office? Will your team visit them as needed? Who likes poor, evasive customer service? Apparently, every airline customer. But outside of our air travel, nobody likes a bad customer service experience. Everyone likes being able to talk to a real human being. Especially when that real human being has a real interest in their success. Have you ever tried to make plans with a friend over text and realize 100 texts in that a simple phone call would have only taken about two minutes? The same goes for service. A conversation with a dedicated project manager or configuration specialist can help you quickly get back to work. Talking to a live person is simply more effective. Support personnel can understand more rapidly, share information more accurately, and address any needs or questions more quickly. Thank you for following our lessons learned series. It has been a privilege to partner with so many clinical professionals doing such important work. Together, we are creating the future of clinical content management and e-clinical innovation. We look forward to sharing another lessons learned series on our 20th birthday! Until then, enjoy the holiday season and stay inspection ready!

To learn more about how we can partner to help streamline your clinical study processes, speed the steps to site activation, keep teams inspection ready, and enhance transparency and oversight, contact us at info@trialinteractive.com or visit us at http://www.trialinteractive.com.