Compliance is as much a learning challenge as it is a business challenge. In evaluating your compliance strategy for a study, considerations abound. Let's narrow the discussion down to two challenges that a compliance-focused learning management system can help you address: costs of training and oversight.
Challenge #1: Cost
At different points in the life cycle of a study there will be a need for training, but training your staff can be a time and logistics nightmare. Before site activation, investigators and coordinators attend investigator meetings specifically focused on training related to your clinical trial, but they don't all live nearby and accommodating them comes with cascading expenses. Costs can range between $2000–3000 per person, and investments in these meetings vary by company; however, a typical series of Phase III investigator meetings in support of a global clinical study can cost as much as $1 million to execute.
The majority of surveyed life sciences companies report reimbursing three clinical investigator meeting line items: 89% of companies reimburse for lodging and travel expenses while 78% cover food and beverage costs (Figure 1).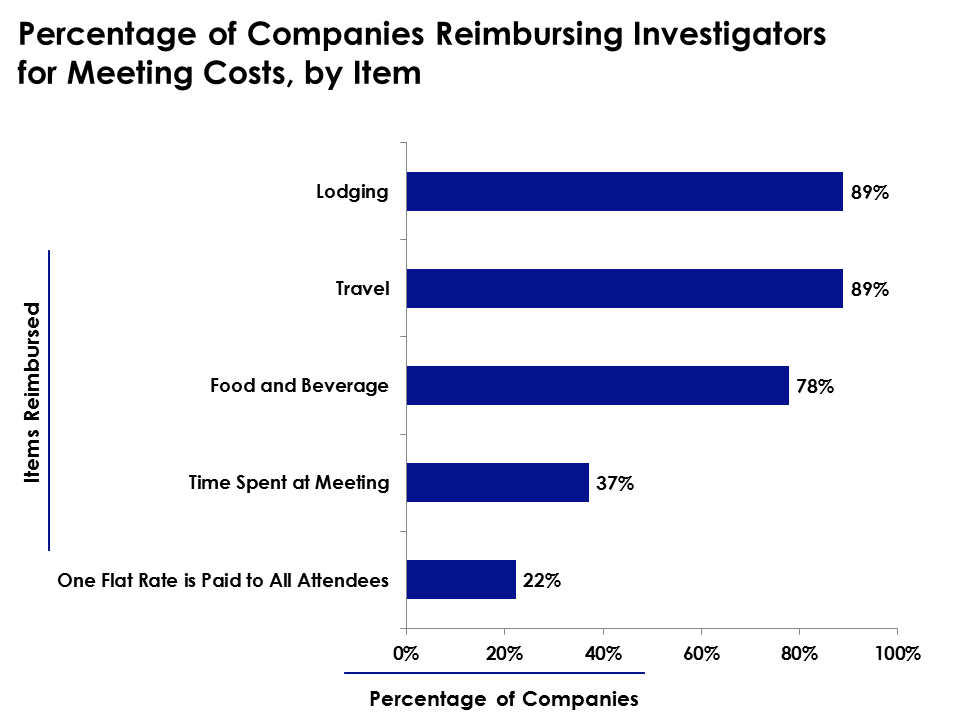 For example, consider a global biopharmaceutical company that needs to provide training to an average of 275 learners (principal investigators, study coordinators, and clinical research assistants) for a clinical trial at that has on average 200 sites across multiple countries.
These training expenses, along with the travel and time, are burdens to speed and efficiency. If you reduce the need for travel and create accessible training, these numbers begin to fall and the timeline begins to recover by weeks! A compliance-focused LMS allows you to manage training remotely, and capture substantial savings that would typically go to the coordination and execution of these on-site trainings. Keep in mind, the example above is only covering one training scenario in the life cycle of a study—the costs only escalate from there.
Challenge #2: Oversight
The pressure on compliance is not letting up. In fact, it's been steadily increasing. 69% of firms surveyed in 2016 expected regulators to publish even more regulations in the coming year, with 26% expecting significantly more.
In the face of increasing regulations, a survey by Brandon Hall found that fewer than half (48%) of 207 companies believe they are highly prepared for a compliance audit. This is at odds with 77% of companies surveyed reporting that they face some external audit at least annually. Uh oh!
With regulations constantly evolving, and the increasing chances of being audited, it is always best to have peace of mind that your team is effectively trained to keep your business inspection-ready.
A single view of compliance assurance can let you know exactly where you stand with the training of your staff. Without such a view, senior managers are challenged to obtain insight to the state of compliance activities and further challenged to perform a timely assessment of the relative compliance risk that the organization may face. These obstacles to oversight increase the chances that a damaging risk can slip right under the radar, resulting in inspection or audit findings. Earlier assessments of team knowledge and risk lead to earlier action.
Home-grown systems, while perhaps very specifically tailored to your perceived needs, create other challenges for a truly common space for learning and oversight. The use of paper-signed training forms and trackers (spreadsheets, spreadsheets, and more spreadsheets!) may have made sense at one point. Companies might track training with the goal to document compliance as well as maintain a quality system, along with a mix of tools, such as shared folders and file systems, for example. These systems become increasingly inefficient and risky to use. They are not automated, subject to human error, often not shared and updated in the cloud, tend to get emailed around, and somehow always seem to be out of date. They also tend to be controlled by a single owner of the tracking sheet and so they are not an automatic, true representation of compliance activity. There is also potential bias, sometimes just plain, bad data, and NO AUDIT TRAIL! That last point is emphasized because it is a significant concern that is highlighted in many regulator reviews and examinations. A system that accurately reflects the learning efforts of the team and their collective progress, and maintains an audit trail, saves time and is a reliable source of truth.
A compliance LMS is something that gives sponsors and QA teams real oversight and control. So, choosing the right one for your organization is critical to support learning and training goals across all areas of the company.
Save money. Gain effective oversight. Sleep better at night.
If you are still using trackers, and training people by flying them all over the world and putting them up in hotels, you should consider the advantages of the right LMS. More importantly, you should consider an LMS as part of your overall performance and compliance strategy.
Adequately educating your teams, with the knowledge to reduce risks and perform their job functions correctly, is as much about operating effectively, and efficiently, as it is about successful audits and inspections. Make sure you do not reduce your consideration of LMS to a simple tool. Consider the complexities of training logistics and obstacles to oversight, and then expand your view. The right learning strategy will help you manage those considerations and many, many more.
For a more comprehensive review of compliance-focused LMS and why it is a must for compliance and efficiency, check out our recent white paper. If you are interested in talking more about Compliance LMS, contact us at info@trialinteractive.com.