September 17–18, 2019, marked the 10th annual DPharm conference, held in Boston, Massachusetts. This conference is one of my favorites! I always leave with my cup filled to the brim with excitement, hope, and optimism for the future of clinical trials. This year was certainly no exception.
The conference "kicked" off with Alyssa Epstein, a Radio City Music Hall Rockette and a breast cancer survivor. After gracing us with a beautifully choreographed routine, she shared her story and her patient journey. Many of the keys to her success as a Rockette were the very same for her recovery:
    Stand on your own two feet so that you can better support others;
    Have each other's backs when you fall;
    Prepare for the unexpected, but keep going; and my favorite,
    Success happens when "I" becomes "We."
Did you know dancers don't touch in the famous Rockette kick line? Instead, they position their arms and hands very close to the girls next to them but "hover" rather than make direct contact. This positioning enables them to perform in unison as one but also keeps them standing on their own two feet. This requires a lot of preparation and rehearsal and is the ultimate test of core strength, support, and teamwork. Alyssa put a very real name and face to the patient journey. Her compelling story helped remind all of us why we were there: to disrupt and innovate solutions to improve patient experiences and outcomes.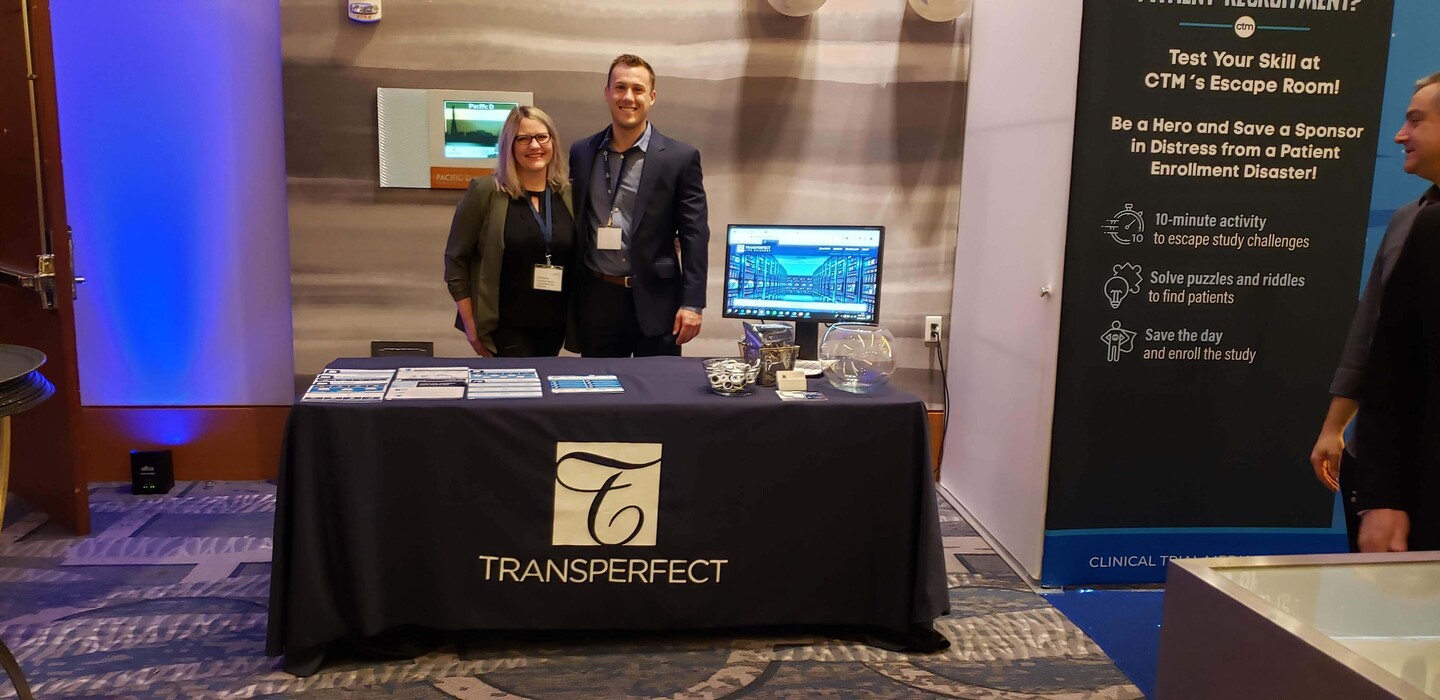 Next up was Dr. Scott Gottlieb, 23rd commissioner of the Food and Drug Administration (FDA). He provided some insights into the recent past of clinical trials as well as the future (which is closer than we think). Here were a few of my takeaways:
"We are at an inflection point when it comes to science and medicine."
Over the past 30–40 years, we've finally progressed to delivering a gene to a target organ or cell. He believes that we are at the cusp of being able to do the same thing with gene-based regenerative therapies, and it will be a product innovation that gets us there.
"We can't lose sight of small gains over a large population."
The focus over recent years has been on rare and orphan diseases, and that campaign has been successful in bringing in many novel treatments. He believes in the near future the focus will shift to primary care related to broader public health. We have had increasing morbidity on things we thought we already had "covered," such as heart disease or high cholesterol.
We need to find ways to study bigger populations of patients for longer periods of time in an environment where it doesn't cost $50,000 to enroll a single patient, or $100,000 in an oncology trial."
He predicts that more and more we will see the use of practical and real-world evidence as a way to do things more efficiently.
He also spoke about reimagining the clinical development and regulatory processes. Specific examples he gave were in the following areas:
Pooling together individual investigators under one or more master protocol and being allowed to submit the results as a group. This helps to show "durability" in a larger population than a single site clinical trial would permit.
Treating a disease based on its genotype rather than its phenotype. In layman's terms, this means submissions to FDA for a drug would be based on the molecular basis of the disease, rather than the organ it originates in.
Improved FDA funding pathways and tools were created as part of the 21st Century Cures Act. Additionally, there has been significant progress and efforts around collaboration and process improvement within the agency.
Dr. Gottlieb was an energetic and informative speaker, and I personally walked away awestruck and inspired. He was a hard act to follow, but there was plenty else to learn and experience. Additional highlights from the conference included:
DPharm Idol
A prestigious annual tradition where selected companies compete for the title of "most impactful innovation."
This year's candidates included a patient rating system for sites and trials, a "perpetual clinical trial" expanded access protocol, an investigator site platform, AI used for early trial success prediction, a smart protocol designer using NLP, and a novel blood collection device. The winner was a company called Tasso, who developed a blood collection device that is intended to be used by patients themselves at home. It has a 98% success rate and will result in lower costs and easier access to blood data related to clinical trials.
Little "i" versus Big "I" Innovation
There have been over 1,900 IPOs in the last 15 years—only 2 of them were in any way related to clinical trials. In one of the talks, it was noted that the last truly disruptive innovation was EDC as a platform. Everything else has just been incremental changes to an existing process. Some of my favorite quotes from the speakers:
Now is the time to think about e-source paths to innovation!
"If you are improving upon an existing process, you're not innovating, you are renovating"
"Project-based, incremental improvements are the death spiral of innovation"
"Do things better = operational excellence; do better things = changing process."
Insourcing versus Outsourcing
In 2008, 30% of trial activity was outsourced. In 2018, 78% of trial activity was outsourced. When you outsource so much of your work, there isn't much room left for innovation. Many of the speakers spoke about a shift to insourcing trial oversight activities so that they can reinvent the processes.
The Ever-Rising Cost of Clinical Trials
It can cost investigators upwards of $150,000 just to get started in clinical trials. Innovation is exploding, but the cost of trials and length of time has not kept up. Tying this back to Dr. Gottlieb's session, it costs $50,000 to bring on each new patient ($100,000 for an oncology trial). Many of the innovations discussed here will help us to significantly reduce the cost and time required moving forward.
Virtual Trials
The expected benefits of virtual trials include improved patient experience, increased patient enrollment, and lower costs. When exploring fit criteria, you can look at trial operations, regulatory functions, or recruitment – the path is not always completely clear. A hybrid approach can still provide tremendous rewards even if only one or two of the expected benefits are realized.
Artificial Intelligence
Artificial Intelligence, or AI, is always a hot topic, but it isn't magic! One of the speakers broke it down as follows: "AI is nothing more than patterns and predictions ideally based on logic, reason, and learning. It needs to be trained on fit for purpose data, it needs to be human interpretable, and it needs to be machine usable." The trick will be ensuring that the proper teams are in place to not only help the machines learn, but also be able to understand and interpret the results in a business context in order to make intelligent decisions.
DPharm brought together a diverse group of innovators to change the world of clinical trials. It is a wonderful opportunity for collaboration and brainstorming, learning about progress, and planning for the future. Our industry is changing to make research more accessible to all, to reduce rework and redundancy, and to get lifesaving therapies to patients more efficiently and in new and innovative ways. I am looking forward to seeing everyone again in 2020!
Need support for an upcoming or ongoing clinical trial? Contact us at info@trialinteractive.com to talk about site selection and activation, e-learning and training for compliance, clinical content collaboration, eTMF and TMF services, CTMS, and more.